What are DIVA Bucks? And how do I use/earn them?
The Diva Bucks rewards program allows you to earn rewards by completing tasks and placing orders. It's our way of thanking you for being a loyal customer and fan. If you visit our website, login, and click on "Rewards" on the bottom right-hand corner of the site, you will see a pop-up window that shows you ways to earn and redeem rewards. You can earn DIVA Bucks by following us on social media channels and you also earn 1 Diva Buck for each $1 you spend with us. The way to redeem Diva Bucks is by way of store credit, the exchange rate is 50 Diva Bucks for $1 in-store credit. The smallest redeemable value is 250 Diva Bucks which can be redeemed in $5 of store credit. If you'd like to redeem your Diva Bucks, prior to completing your next order, click on the "Rewards" select "Ways to Spend" and redeem the value you'd like to receive. The store credit will be available to you at checkout immediately prior to entering your payment information.
How do I access or view my store credit?
You can view your store credit in your account when you login to our website. You will see your store credit presented to you at checkout. If you cannot locate your store credit, or have any questions, please don't hesitate to contact us.
What are my shipping options?
We offer a variety of shipping options, please visit our shipping information page for a complete list.
Can I return my purchase?
Yes! We accept returns within 60 days of purchase, with the exception of items marked as Final Sale. See our complete return policy here.
How quickly will I get my order?
All in-stock orders ship within 1-2 business days. You will receive an email with your tracking number once your order ships.
Do you accept international orders?
Yes, you can order directly through our website! If you have any questions about ordering please don't hesitate to contact us.
Do you accept phone orders?
Yes, call us at 866-411-3482 between 8:30 AM and 5:30 PM ET Monday through Friday to place your order over the phone.
Are your products covered by my health insurance?
It is best to call your health insurance provider and ask them whether they cover medical, graduated compression garments for the treatment and/or management of lymphedema. This is often a part of the durable medical equipment benefit.

If you order through us directly, please note that we do not process insurance but we do provide insurance codes on our invoices that can be used for reimbursement through your insurance company.

Medicare and Medicaid have legistlation in place to cover compression garments, but the program has not been rolled out yet. Coverage is due to start by January 2024. Please check the news for the latest information.

In what currency are your products?
All prices are in United States Dollars unless otherwise indicated. You may choose your currency from a drop down in the top left hand corner of the website. If you're purchasing from outside the United States you will be charged in USD and your bank will convert the charge to your currency using the conversion rate at the time of purchase.
What forms of payment do you accept?
We accept Paypal, American Express, Visa, Discover, and Mastercard. We offer interest-free installment payments through Afterpay. As well as several digital wallets including Chase Pay, Google Pay, and Paypal Credit.
How do I care for my garments?
Caring for your garment as instructed below is essential to getting the full 4-6 months of wear. Regular washing prolongs the useful life of the garment and maintains the ideal compression characteristics.
Washing & Drying
To wash your garment, please place the garment in a lingerie/delicates bag and machine wash the garment on delicates setting in cold water using a gentle fabric detergent. Keep the garment in the delicates bag, tumble dry low until fully dry.
Do Not:
Wash in hot water
Dry on high heat setting
Dry on any setting for an excessively long duration
Wring the garments dry
Hand wash
Dry clean
Use any chemical solvent or bleach, fabric softener or any other laundry additive
Use creams, oils, and lotions immediately prior to donning the garment
Doing any of the above can compromise the delicate nature of the fibers that make up your garment, can more rapidly deteriorate compression and lower the useful lifespan of the garment. For best results, we recommend rotating between 2 or more garments and washing the garments frequently in between use. To learn more about our care instructions read our blog post:
Garment Care Explained
What's the best way to put on and take off my sleeve and glove?
HOW TO PUT ON AND TAKE OFF A SLEEVE:
Turn down the top of the sleeve so it's folded over itself.Pull the sleeve over your hand until the end of the sleeve is at the pictured position on the wrist.Gently pull the rest of the sleeve evenly up over the arm to the armpit. Make sure the sleeve is equally spread over the whole arm and that there are no constrictions or wrinkles.To remove sleeve, hold the top of the cuff and pull down until it slips off your hand.

HOW TO PUT ON AND TAKE OFF A GLOVE:
Put the glove on your hand and adjust the fingers by gently pulling each glove finger opening down to your nail bed, leaving the tips of your fingers exposed. Smooth out any extra fabric over the length of your fingers. As you begin to use your hands, the finger fabric will naturally fall into place and distribute evenly over your fingers. To remove the glove, lightly tug up each glove finger to loosen, then gently slide the non-gloved hand into the glove opening at the wrist to push the glove up and off the hand. This method will allow you to remove the glove without turning it inside out.
What compression classes do you offer?
We offer compression in 20-30 mmHg and 30-40 mmHg in arm sleeves, gauntlets, and gloves. We offer 15-20mmHg, 20-30mmHg, and 30-40mmHg in knee highs.
Compression class names vary regionally, in the United States 15-20 mmHg is Class 0, 20-30 mmHg is Class 1 and 30-40 mmHg is Class 2.
What sleeve length options do you offer?
Our sleeves come in a Short and a Long length. Please don't be put off by the length names, we don't have a "Regular" length anymore because we don't believe that there is a standard arm length, just like there isn't a standard arm size, by only offering a Short or Long option we hope it will inspire our customers to measure their arm and get the sleeve that will fit them the best. To determine length, measure your arm length from wrist to the top of the bicep; the Short sleeve length accommodates arms 37-44cm and the Long sleeve length accommodates arms 43-56cm. The length formally known at Regular is now called Long.
Please visit our Size + Fit page to see detailed instructions on how to measure and fit for our garments.
What compression class do I need?
It is best to consult your doctor or lymphedema therapist about which level of compression is best to manage your swelling. A doctor or therapist will assess your arm for swelling and develop a plan with you to manage and/or reduce your lymphedema. Each plan is individually tailored for each patient, self-management lymphedema care often includes wrapping, manual lymph drainage massage and wearing a properly fitted compression garment.
15-20 mmHg or 20-30 mmHg is generally for preventative wear for those at risk for swelling and for minor swelling and 30-40 mmHg is for more severe edema.
Should I wear a gauntlet or glove with my arm sleeve?
When wearing a medical graduated medical compression sleeve it is best for lymphedema patients to protect their hand with a compression gauntlet or glove. If a sleeve is worn without a gauntlet or glove then the pressure from the sleeve can push lymphatic fluid into the hand instead of up toward your body. When you wear a sleeve and a glove or gauntlet together you can protect yourself against the risk of this happening. Please discuss this information with your doctor or therapist to decide whether a gauntlet or glove is suitable for you.
Why is my gauntlet/glove wrist loose?
Having double pressure in the wrist from the glove or gauntlet and the arm sleeve can result from improper graduation in the compression and increased swelling. That's why the glove and gauntlet were specially designed to have no overlapping compression at the wrist when worn with a sleeve.
What is the DIVA Diamond Band?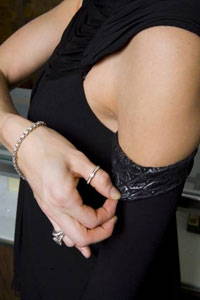 A latex-free and silicone-free gripper applied directly to the top cuff of the sleeve. The DIVA Diamond Band helps the sleeve stay up and prevents rolling. All sleeves are available with or without the DIVA Diamond Band.
When should I wear my garments?
The amount of time and degree to which you wear your compression garments will depend on the severity of your lymphedema and the self-care program you've developed with your doctor and/or lymphedema therapist. If you do not have a self-care regimen developed, it is best to consult with your doctor or therapist to determine when and how often you need to wear your sleeve. We do not recommend that our garments are worn overnight.
Can I request a custom design garment?
If you're interested in a custom garment design, we would love to work with you to create the compression sleeve of your dreams! The cost of a custom design is $50 plus the cost of the garments ($90 arm sleeves, $70 gauntlets, and $120 gloves). You can order a custom design here. The total design process can take up to 2 weeks.
Custom Design Process:
1. Design consultation with Lymphedivas Art Director to decide on design direction and agree on a timeline for delivery.
2. Eight hours of design time and/or up-to three rounds of design revisions.
3. Design is agreed upon and sent to production. No changes to the design can be made after this point.
4. The product is created and shipped within 1-2 business days.
Custom Design Policy:
- Custom designs must comply with all US copyright laws. We cannot create designs using trademarked imagery, for example: Disney, Marvel/DC, and major sports team logos/mascots.
- Custom designed garments are final sale. No returns will be accepted for custom-designed garments outside of manufacturing defects. Manufacturing defects must be reported within 14 days of receipt.
- The completion of the design consultation starts the design process. If the order is canceled after this point, the garment cost will be refunded, but the custom design fee will be forfeit.
- Custom design garments may be reordered in the same size and compression by phone with no additional fees beyond the garment cost (arm sleeves: $90, gauntlets $70, and gloves $120).
- Custom design garments are exempt from storewide sales, discount codes, or any volume discounts.
- The design process may take up to two weeks, any expedited shipping options will go into effect after the design process has completed.
- Any additional design revisions beyond 3 rounds may be subject to an additional design fee of $50.
- We strive to complete all custom designs within two weeks. If there are delays in response or non-response on design revisions then the design process may take an excess of 2 weeks. We reserve the right to cancel the order if we do not hear from the customer for 30 days.
I am a male with lymphedema; can I wear your products?
First, no matter what your gender-identity is, you can wear LympheDIVAs! Simply use our size and fit page to determine your size, work with your medical team to determine your compression class and garment needs, then find a pattern or color you love! However, if you're looking for a masculine collection of designs, you can find our LympheDUDEs line here.
Are your garments still infused with Aloe vera?
We have discontinued Aloe vera infusion in our products to be more accomodating of those with Aloe allergies and sensitivities. All our current stock is free of Aloe.
Are your garments UV rated?
Our garments have the Ultraviolet Protection Factor (UPF) rating of 15 stretched and 55+ unstretched. The amount of ultraviolet rays that pass through the garment largely depends on the amount of stretch, which varies from person to person. Our product are not manufactured especially to block out ultraviolet rays, typical sun protection precautions should be taken when wearing the garments.